Martes, 28 de Agosto de 2012 14:09
Despite his civilian dress, there was no mistaking the secret police when he reached across the front passenger seat of the Toyota , to block the lens of my 17 year old daughter Mariah's Nikon from recording the  beating of a woman by  his colleagues, uniformed and not. Mariah's shutter was too fast for him, so he lunged further in an attempt to snatch the camera, grazing her face. Mariah was fine. The woman was not.
A few hours later, Front Line Defenders Director Mary Lawlor and Eric Sottas, Founder of the World Organization Against Torture, went to the local hospital, where they visited the bloodied and bruised victim, Soukaina Jed Ahlou, President of Sahrawi  Women Forum.
As witnesses, we were not alone. A handful of women in multicolored melhfas—the traditional Sahrawi garb, a 20 feet of printed fabric wrapped around the body head to toe—surrounded their sister protester, as the police harangued them. We saw one local policeman in blue uniform. Then there were the handful of thugs, identified to us by local human rights leaders as members of the DST, or Morocco's version of the Stasi. In addition, there were the two plainclothes informants who had been following us all day—when Mariah took their pictures, they tried to shield their faces and then one ducked behind his car. Two of the brutes planted themselves in front of the windows of our car, partially blocking our view of the beating. The third one cursed Mariah, called her an unprintable name, and blocked her camera with his hand.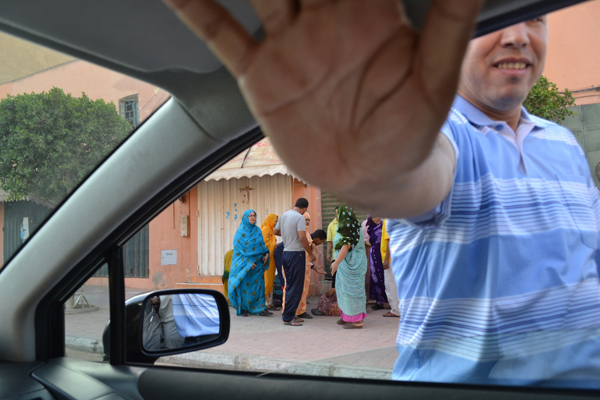 RFK Human Rights Award laureate Aminatou Haidar recognized the DST thugs immediately. One of them, mustachioed and bald, Al Hasoni Mohamed, was the same man who accosted her thirteen year old son, menacing "I will rape 'til you're paralyzed."
Known as "the Sahrawi Gandhi," Aminatou is one of Western Sahara's most prominent human rights defenders. For over 20 years, she has been involved in non-violent resistance against Morocco's occupation of her homeland. Moroccan authorities have illegally detained her, imprisoned her, beaten her, tortured her, and threatened her with death.  She once spent four and a half years in isolation, blindfolded. Despite the abuse by officials, she considers Moroccan citizens her "brothers" and she courageously maintains her firm commitment to non violence as she advocates for the release of prisoners of conscience, seeks to strengthen local human rights monitoring mechanisms, and demands that the referendum—agreed to by all parties over two decades ago, which will allow the people of Western Sahara to vote on their future—finally takes place.
The violence we witnessed is not an isolated incident. We met a dozen women whose sons and husbands were beaten and remain in prison for their non violent activism. We met with a group of men who showed us home videos of non-violent demonstrators be harassed, kicked, and beaten with nightsticks by uniformed police and their ununiformed colleagues. We met with a group of lawyers who said from 1999 forward they have represented over 500 cases just like the one we witnessed today, non-violent protesters bruised, bloodied and too often, murdered, and always, always accused of some crime.   Across all those years, the courts have acquitted only three Sahrawi victims.
The regional office of the Moroccan government claimed that Jed Ahlou was not beaten, and that the entire incident was a mere show. It didn't look like a show to us. Her wounds and swollen and discolored face looked all too real.
We are here for a week with a delegation from the Robert F. Kennedy Center for Justice and Human Rights  to assess the human rights situation in both Western Sahara and the Algerian refugee camps where displaced  Sahrawi live.  We had a first glimpse on day one, seven days to go.
SOURCE: RFK centre