Jueves, 17 de Noviembre de 2011 15:11
El Aaiún, 16 de Noviembre 2011
Los presos políticos saharauis de la prisión de Sale, están en huelga de hambre indefinida que llega a su decimoséptimo día consecutivo para protestar por la negación de los derechos básicos dentro de la prisión, así como para pedir que les pongan a disposición de un tribunal civil que garantice el cumplimiento de todas las condiciones de un juicio justo o, en su caso, su inmediata absolución sin cargos, pues los detenidos saharauis pasan por años de prisión hasta ser juzgados por el tribunal militar permanente en Rabat.
Es sabido que en estos diecisiete días de huelga de hambre abierta continúan sufriendo dolores y catalepsias constantes todos los huelguistas. El Comité de seguimiento de la huelga resalta los siguientes casos por su gravedad:
- Sheikh Banaca que se desmayó hoy y fue trasladado hace cuatro noches por el personal de la prisión a un lugar desconocido por tiempo indefinido.
- Hussein Zawi Taqhi Dam.
- Abdullah Toubali Taqhi Dam.
- Muhammad Tahlil Taqhi Dam.
- Muhammad Jouna Babbit. Se mantiene en pié con mucha dificultad.
- Muhammad Bashir Butinkazh. Presenta un nivel de dolor general y de hemorroides.
- Abdel Yalil Laarusi. Presenta dolores de estómago y los frecuentes desmayos.
- Abdallah Toubali. Presenta dolores de estómago y casos de síncope recurrente
- Mohammad Hoda. Se le presentan frecuentes episodios de desmayos y mareos.
- Ahmed Sibai. Presenta frecuentes desmayos y tiene problemas de corazón.
- Muhammad Bani. Presenta dolores y dificultades para mantenerse en pié.
En contacto con el Comité de seguimiento de composición abierta, confirmaron que los presos políticos saharauis encarcelados en Sale mantienen su determinación de continuar la huelga de hambre hasta que sus demandas sean escuchadas y logren así, el cumplimiento de todos sus derechos.
Comité de Seguimiento de la huelga de hambre.
Strasbourg, 16 November 2011
Statement by Western Sahara Intergroup
21 Saharawi human rights defenders and prisoners of conscience have been on hunger strike in Sale prison near Rabat in Morocco on 31 October 2011.
They are demanding their right to a fair trial or to be unconditionally released, and that their rights are respected within the prison.
They were detained for their participation in the peaceful protest by tens of thousands of Saharawis near El Aaiun in Moroccan-occupied Western Sahara in October last year at Gdeim Izik the largest ever protest in the occupied territories of Western Sahara which started the Arab Spring.
The Collective of Sahrawi Human Rights Defenders (CODESA), headed by renowned Saharawi activist Aminatou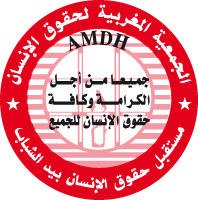 Haidar, has repo rted that the detainees "are victims of abuse by the prison administration; some of the prisoners are in poor health, and do not always receive the care they require."
The President of the Moroccan Association for Human Rights (AMDH), Khadija Ryadi, is closely following this file: "The fact that they are subjected to a military court is a violation of the standards of a fair trial. Since they are civilians, they should not appear before a military court."
Morocco's Human Rights record in occupied Western Sahara has always been poor. But since the Gdeim Izik protest camp this record is becoming w orse . Moroccan forces clamped down heavily on the peaceful protest in Gdeim Izik, injuring many of the protesters, killing a 15-year-old Saharawi boy, Nayem Elgarhi, and imprisoning many of the participants. According to Human Rights Watch and Amnesty International, the Moroccan authorities torture many of the Saharawis whom they have detained, the most common methods, according to Amnesty International's 2011 report being "beatings, electric shocks and threats of rape." The detainees are also often forced to sign confessions and brought before military courts on trumped up charges.
The European Parliament has repeatedly expressed its concern about human rights in the territories illegally occupied by Morocco, and we condemn these latest abuses in a long and sordid history.
We therefore call on the European Parliament, the High Representative Baroness Ashton, and the EU member states to press the Moroccan Government to:
1. Immediately and unconditionally release the 24 Saharawi hunger strikers as we believe that they are being held solely as a result of their protesting for their legitimate rights;
2. Take all necessary measures to guarantee their physical and psychological health;
3. Guarantee, in all circumstances, that human rights defenders in Western Sahara and Morocco are able to carry out their legitimate human rights activities without fear of reprisals and free of all restrictions.
4. To release Saharawi human rights activists in Moroccan prisons.
Save lives of Saharawi political prisoners on hunger strike
Sahrawi political prisoners on hunger strike, in Sale (Morocco).
1- Naama Asfari
2- Mohamed Attahlil
3- Ahmed Sbaai
4- Hassan Dah
5- Sidahmed Lemjid
6- Bachir Khadda
7- Mohamed Lamin Haddi
8- Abdallah Lakhfaouni
9- Cheikh Banga
10 -Brahim Lismaaili
11- Mohamed Mbarek Lafkir
12- Abdeljalil lamgheimad
13- Mohamed El Bachir Boutenguiza
14- Abdallah Abhah
15- El Houssein Zaoui
16- Abdallah Taoubbali
17- Mohamed Bourial
18- Abderrahmane Zeyou
19- Mohamed Bani
20- Taki El Machdoufi
21- Mohamed Khouna Babeit