International Press
Lunes, 28 de Enero de 2013 19:33
VIDEO HERE (Guardian.co
Western Sahara is rich in phosphates and fish, but Saharawi activists say those resources are not being harnessed to improve the lot of the indigenous population. Morocco annexed the territory in 1975 after former colonial power Spain pulled out, and the conflict that ensued is one of the world's longest running. In November 2010 protesters set up camp at Gdeim Izik, outside the capital Laayoune. They argue that exploitation of the territory's resources should stop until a solution to the conflict is found.

* Celeste Hicks recently travelled to Western Sahara with the International Women's Media Foundation
Lunes, 07 de Enero de 2013 19:02
Local Sahrawis complain of abuses and say international community has ignored their plight under Moroccan rule.
Laayoune, Western Sahara - "Duck down and put your head below the window," says Hamid as we pass a military outpost in southern Laayoune, the capital of Western Sahara, on our way to the family home of dissident activists here.
Laayoune has no shortage of military outposts. The security forces are everywhere, on hand to disperse protests and public demonstrations. The latest incident was on December 10 - International Human Rights Day - when they broke up a protest in front of an office of Morocco's Advisory Council on Human Rights with clubs.
Western Sahara has been ruled by Morocco since 1975 when, after Franco's death, the Spanish left and allowed Morocco and Mauritania to enter. An International Court of Justice advisory opinion issued at the time did not find "any tie of territorial sovereignty" between Western Sahara, Morocco, and Mauritania, though it also noted the "difficulty of disentangling the various relationships existing in the Western Sahara region at the time of colonisation".
By 1979, internal resistance had forced Mauritania out, but Morocco's King Hassan II was committed to the Sahara as "bilad al-siba", part of a "Greater Morocco" that would eventually cover all of Mauritania as well. Hundreds of thousands of Moroccan settlers were encouraged to enter Western Sahara with state-subsidised property and employment, under the army's protection.
Leer más...
Jueves, 20 de Diciembre de 2012 10:46
By Celeste Hicks
Following his most recent visit to Laayoune in November, the UN envoy for Western Sahara Christopher Ross said that "the conflict over the final status of the territory" has gone on too long.
Mr Ross is correct in saying the conflict has gone on too long – it's now 21 years since a ceasefire was agreed between Morocco and the Polisario (the Saharwi independence movement); the next step was to organise a referendum which was to determine whether the people wanted to remain a part of Morocco – which annexed the territory illegally after colonial power Spain pulled out in 1975 – or opt for independence. That vote by indigenous Saharwi people and the thousands of Moroccan settlers who now live in Western Sahara has never taken place. Speaking to a number of UN officials from the Mission responsible for organising the referendum (Minurso) recently in Laayoune, the hurdles seem immense – it's hard to see how it ever will take place.
But Mr Ross's second assertion that it would be "a serious miscalculation to believe that the status quo can last, since it is now threatened by the rise of extremist, terrorist and criminal elements in the Sahel region" needs more analysis.
In a telephone conversation about Western Sahara to the Moroccan minister of Communications Mustafa Khalfi, I noted down three specific references to the current crisis in the Sahel. In one answer Mr Khalfi said that Morocco's plan for economic development in the territory was with a view to ensuring "state stability", explaining that the world "doesn't need another failed state in the Sahara region".
Leer más...
Miércoles, 12 de Diciembre de 2012 21:32
Two years after the brutal assault by Moroccan forces on the Saharawi camp of Gdeim Izik, Western media indifference continues while the international community remains silent towards ongoing human rights violations. Angel L. Martinez speaks to prominent activists and reports on the precarious prospects for Africa's last colony.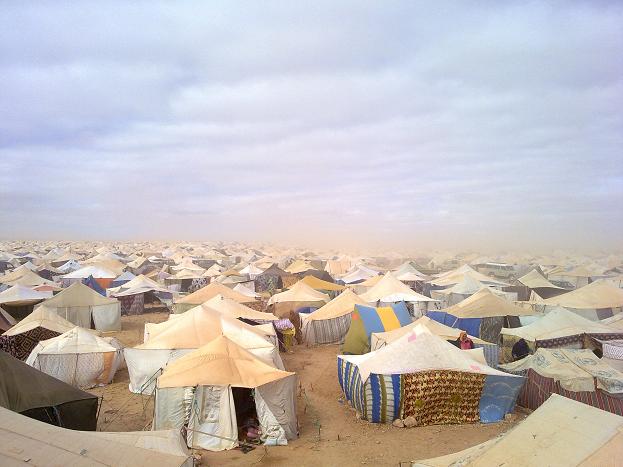 Gdeim Izik camp, Oct 2010. (Photo: Antonio Velázquez)
November marked the two year anniversary of peaceful Saharawi protests which turned into brutal clashes with Moroccan security forces. The Saharawi population – living at crossroads between Morocco, Algeria and Mauritania in what is often referred to as "Africa's Last Colony" under Moroccan control – brought about what Professor Noam Chomsky labelled the inception of the Arab Spring. Yet, little has been said or written about it in the mainstream media, and Western governments remain silent although the violent reprisals from the Moroccan army has left four Saharawi civilians dead while twenty two remain behind bars, uncharged and waiting to face military court.
Before Rabat had ordered the crackdown, these protests were said to be the biggest non-violent act of resistance since Morocco occupied the former Spanish colony in 1975. The episode, however, is not the sole testimony to the relative dynamism of Saharawi activism over the past four decades. Next to achieving a certain degree of internationalisation, Saharawis at the forefront of the national cause assembled tens of thousands of their would-be fellow citizens in large camps which have since become the headquarters of their self-determination plea.
There was never good momentum though. Global media blackout and the sneering neglect of many leading actors and institutions on the international arena undoubtedly did not help. However, Saharawi activists have not forged alliances with sympathetic Moroccan counterparts, who may not always back independentist aspirations but whose own struggle against Mohammed VI's monarchist authoritarianism surely paves the road to a more democratic state where rights of any kind would be preserved and peaceful coexistence could be met.
Leer más...
Miércoles, 12 de Diciembre de 2012 21:30
«
Inicio
Prev
1
2
3
4
5
6
7
8
9
10
Próximo
Fin
»
Página 2 de 15