Martes, 28 de Agosto de 2012 14:09
Despite his civilian dress, there was no mistaking the secret police when he reached across the front passenger seat of the Toyota , to block the lens of my 17 year old daughter Mariah's Nikon from recording the  beating of a woman by  his colleagues, uniformed and not. Mariah's shutter was too fast for him, so he lunged further in an attempt to snatch the camera, grazing her face. Mariah was fine. The woman was not.
A few hours later, Front Line Defenders Director Mary Lawlor and Eric Sottas, Founder of the World Organization Against Torture, went to the local hospital, where they visited the bloodied and bruised victim, Soukaina Jed Ahlou, President of Sahrawi  Women Forum.
As witnesses, we were not alone. A handful of women in multicolored melhfas—the traditional Sahrawi garb, a 20 feet of printed fabric wrapped around the body head to toe—surrounded their sister protester, as the police harangued them. We saw one local policeman in blue uniform. Then there were the handful of thugs, identified to us by local human rights leaders as members of the DST, or Morocco's version of the Stasi. In addition, there were the two plainclothes informants who had been following us all day—when Mariah took their pictures, they tried to shield their faces and then one ducked behind his car. Two of the brutes planted themselves in front of the windows of our car, partially blocking our view of the beating. The third one cursed Mariah, called her an unprintable name, and blocked her camera with his hand.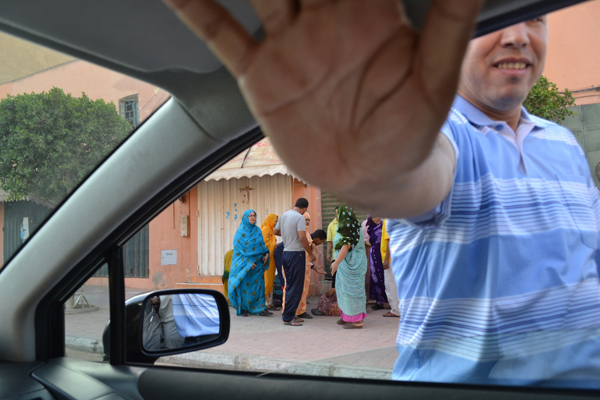 Leer más...
Martes, 28 de Agosto de 2012 13:33
I got news that police were breaking up and beating demonstrators. News came that a woman human rights defender had been badly injured and was asked would I like to see her. I went to the hospital with Eric Sottas, where I took this photo, as she lay waiting to be treated. Her name is Soukainajed Ahlou and she is President of the Forum for Sahrawi women. She was quite badly injured- bloodied and bruised. There seem to be some internal injuries according to a scan taken - I am waiting for exact details.
In an extraordinary coincidence, the car carrying Kerry Kennedy passed the demonstration en route to another meeting. Kerry's 17 year old daughter Moriah quickly took photos including the one of the policeman beating Soukainajed Ahlou. In an attempt to stop her, the policeman reached into the car to grab the camera and in doing do hit her on the face.
Today in the media the Morrocans denied the police beat Soukainajed Ahlou but this time we are witnesses with photographic evidence.
There is nothing unusual about this beating. We have spent 2 days listening to the stories of daily humiliation and fear the Sahrawis live under. Beatings are part of what they expect at demonstrations. Human rights defenders have countless cases they have documented and as a result are regarded as an enemy of the state. They are hugely courageous given the total disregard the Moroccan Government show to their legitimate non violent work in accordance with the UN Declaration on Human Rights Defenders - to which Morocco espouses to be a party.
Source: Frontlinedefenders
Abajo en Español ...
Leer más...
Jueves, 23 de Agosto de 2012 11:52
(Washington – 20 de agosto de 2012) Kerry Kennedy, Presidenta del Centro Robert F. Kennedy para la Justicia y los Derechos Humanos (Centro RFK) presidirá una delegación a Sahara Occidental bajo control de Marruecos del 24 al 31 de agosto. La delegación también visitará Rabat, Marruecos y a los campos de refugiados Saharauis en Argelia. La delegación está compuesta de distinguidos defensores de derechos humanos. El objetivo de la visita es evaluar la situación de los derechos humanos en el lugar.
Desde 1975 existe un conflicto entre el Reino de Marruecos y el Frente Polisario, un movimiento nacional por la autodeterminación del pueblo saharaui. Debido a este conflicto, el pueblo saharaui se dividió en dos, quienes viven bajo el control marroquí y quienes viven en los campos de refugiados en Argelia. En 1991, las Naciones Unidas estableció una misión de paz para supervisar un cese al fuego entre las dos partes y para realizar un referéndum. Después de 21 años desde su creación, la Misión de las Naciones Unidas para el Referéndum en Sahara Occidental – MINURSO, no ha podido realizar el referéndum y no tiene un mandato de derechos humanos, a pesar de las preocupaciones de la comunidad internacional sobre las violaciones a los derechos humanos.
"Nuestra delegación evaluará la situación de los derechos humanos hablando con defensores de derechos humanos, autoridades del gobierno y familias que han sido divididas por este conflicto", declaró Kerry Kennedy. "Esperamos atraer la atención de la comunidad internacional sobre este tema y apoyar el establecimiento de un mandato de derechos humanos para la Misión de las Naciones Unidas".
La delegación incluye a los siguientes miembros: Eric Sottas, ex Secretario General, Organización Mundial Contra la Tortura; María del Río, Fundadora del Patronato de la Fundación José Saramago Marialina Marcucci, Presidenta del Centro RFK – Europa; Margarette May Macaulay, Jueza de la Corte Interamericana de Derechos Humanos; Marselha Gonçalves Margerin, Directora de Incidencias RFK Partners/Centro RFK; Mary Lawlor, Directora, Front Line Defenders; Santiago A. Canton, Director RFK Partners/Centro RFK; Stephanie Postar, RFK Partners/Centro RFK. El Centro RFK elaborará un informe que incluirá las observaciones de los miembros de la delegación después de concluir el viaje.
Para la preparación de la visita, el Centro RFK se ha reunido con representantes de todas las partes involucradas en el conflicto y agradece la cooperación recibida.
Leer más...
Lunes, 20 de Agosto de 2012 10:32
Martes, 07 de Agosto de 2012 08:30
New York : Il s'agit de Jamal Benomar, médiateur onusien au Yémen.
Le porte parole du secrétaire général de l'ONU, Martin Nesirky a déclaré mercredi que Ban Ki Moon a décidé de promouvoir l'émissaire international marocain, Jamal Benomar, au poste de sous-secrétaire général des nations unis et de le nommer conseiller spécial pour le Yemen.

«Mr Ban Ki Moon a nommé, aujourd'hui, M. Jamal Benomar, au poste de Conseiller spécial sur le Yémen, au rang de Sous-secrétaire général, pour mener les missions de bons offices au Yémen pendant la transition du pays » a-t-il précisé.

Benomar qui a officié en tant que émissaire onusien au Yémen depuis l'éclatement des troubles en avril 2011, est fonctionnaire international depuis 1994, il est riche d'expériences au Programme des Nations Unies pour le développement (PNUD), au Haut-commissariat des Nations Unies aux droits de l'Homme et au Département des affaires politiques.

Sur le terrain, Benomar compte des actions en Afghanistan et en Irak en tant qu'Envoyé du Secrétaire général pour faciliter la conférence sur le dialogue national et a occupé les fonctions de directeur du Bureau d'appui à la consolidation de la paix et de Directeur de l'Unité de l'Etat de droit au sein du Cabinet du Secrétaire général des Nations Unies.

Il a durant sa carrière porter conseil à plus de 30 pays en matière d'Etat de droit, de gouvernance, de consolidation de la paix et de règlement des conflits.
Source: emarrakech
Viernes, 27 de Julio de 2012 12:55
El 25 de julio se ha comenzado una campaña a través de Avaaz para enviar una petión al Presidente del Gobierno Español, Mariano Rajoy, en la que se solicita se asuman las responsabilidades políticas que tiene España en la cuestión del Sahara Occidental.
¿POR QUÉ ES IMPORTANTE?
El Sahara Occidental es un país de Africa que fue ocupado militarmente por las tropas del rey de Marruecos. España fue el estado europeo colonizador que entregó el Sahara Occidental a Marruecos cometiendo así un delito internacional puesto que a los habitantes del Sahara Occidental no se les permitio ejercer el derecho de autodeterminación consagrado por la ONU. Eso ocurrió en noviembre de 1975 coincidiendo con la muerte del dictador español, general Franco. Para llevar a cabo su felonía, el rey de Marruecos tuvo el apoyo de los Estados Unidos y de Francia, así como el consenso, que se tradujo en silencio y en no intervención, del resto de los países occidentales
Si quieres firmar la petición pincha aquí. Ya llevamos más de 2500 firmas !!!
Viernes, 10 de Agosto de 2012 07:07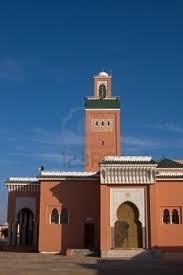 Le début des travaux de transformation de la bibliothèque pluridisciplinaire, située dans l'enceinte de la mosquée Moulay Abdelaziz de Laâyoune, a provoqué un vaste mouvement de protestation. En effet, cette bibliothèque rénovée  et  équipée dernièrement par l'Agence du Sud doit être transformée pour abriter une association gérant  un établissement scolaire primaire, adoptant les programmes de la mission française et dont les cours débuteront à la prochaine rentrée scolaire. La bibliothèque et sa cour  font partie d'un ensemble comprenant des boutiques dans l'enceinte de la mosquée, donc relevant du domaine public. Les nouveaux locataires prévoient d'ériger une nouvelle clôture séparant leur établissement de l'ensemble.
Les protestataires estiment que c'est contradictoire avec la loi qui fait des propriétés appartenant aux Habous des biens publics  devant profiter à tout le monde.
Ils déclarent que personne ne pouvait imaginer qu'un jour, cette mosquée qui est l'une des plus anciennes de Laâyoune, serait dépossédée d'une partie de son domaine au profit d'une mission étrangère. A noter que certains citoyens avaient prévu d'organiser une marche de protestation, vendredi dernier, mais lors de l'audience qu'il leur avait accordée, le wali avait promis de trouver une solution à ce problème dans les meilleurs délais. Les protestataires qui se sont constitués en Coordination pour la protection de la mosquée, estiment que c'est une provocation  qui fait fi des sentiments des citoyens. Ils ne renonceront pas à leur marche, si  le chantier n'est pas suspendu. La Coordination qui compte des acteurs associatifs, des élus et des notables a publié un communiqué dont Libé a reçu copie, soulignant qu'ils n'excluent pas de continuer leur protestation.
Leer más...
«
Inicio
Prev
11
12
13
14
15
16
17
18
19
20
Próximo
Fin
»
Página 16 de 54